PBBM calls on PMA graduates to uphold democracy, rule of law
MANILA – President Ferdinand R. Marcos Jr. called on the members of Philippine Military Academy (PMA) "MADASIGON" Class of 2023 to continue upholding democracy and the rule of law as they officially join the Armed Forces of the Philippines (AFP) following their commencement exercises at Fort del Pilar in Baguio City on Sunday.
"As you join the military's ranks, continue to fuel your undying and genuine love for country and commitment to public service. In all your tasks, diligently work for unity, respect for democratic ideals, institutions and mechanisms, and the rule of law," Marcos said.
Class valedictoria Warren Leonor of Lipa City, Batangas, will join the Air Force.
Leonor received the Presidential Saber, along with the Award of Excellence (cum laude), Philippine Air Force Saber, and the Joint United States Military Assistance Group Saber.
Of the total 310 graduates, 158 (123 males and 35 females) will join the Army; 76 (57 males and 19 females) will join the Air Force; and 77 (59 males and 18 females) will be assigned to the Navy.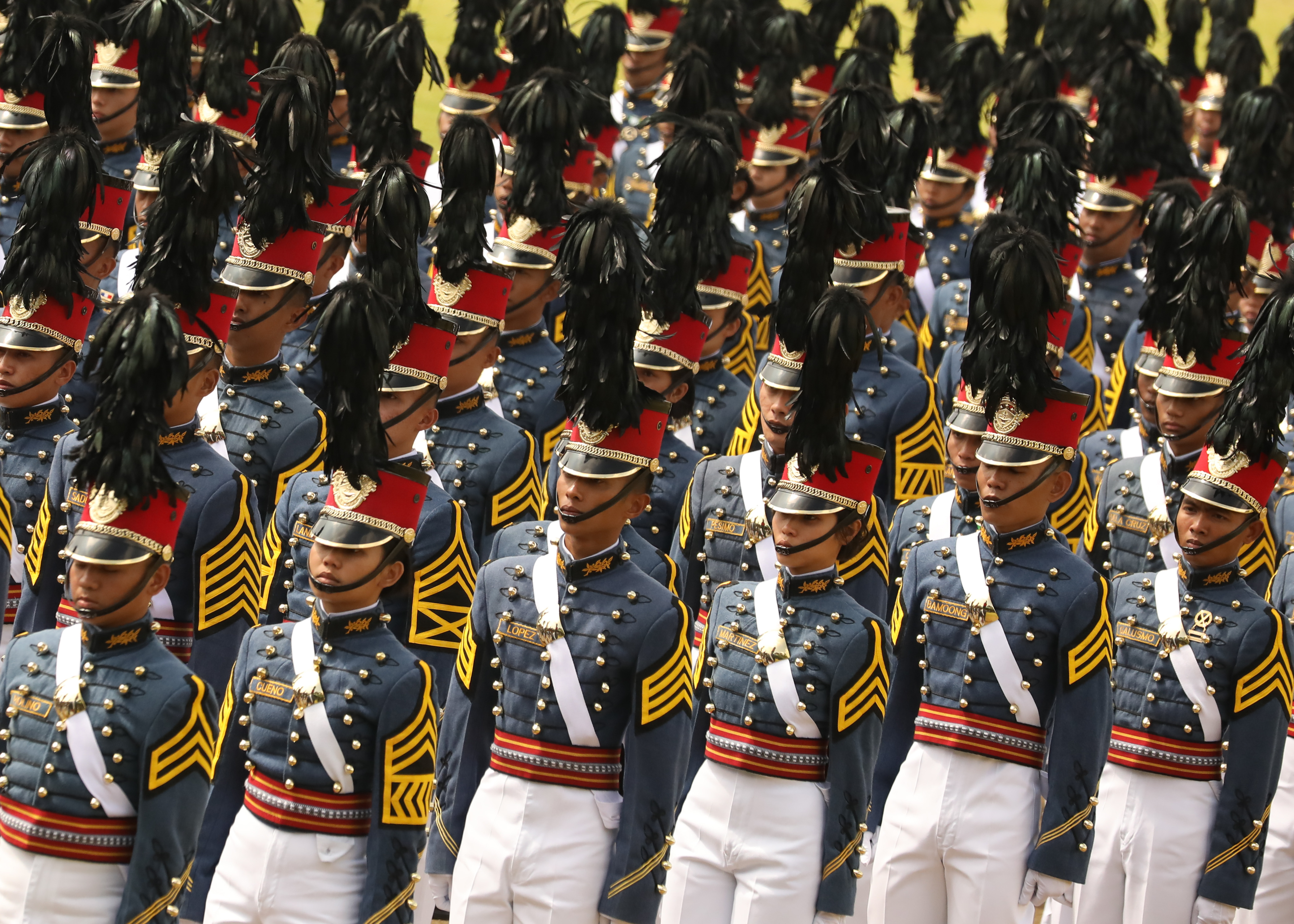 Philippine Military Academy "MADASIGON" Class of 2023 (PNA photo by Rey Baniquet)
The President reminded the new military officers that their gratitude and appreciation to the country do not end with the kind words they utter, but through the conscientious and responsible performance of their duties.
As the Commander-in-Chief, he assured the future AFP leaders of his full cooperation in the collective public service towards building a stronger and more resilient Philippines.
"As you encounter challenges along the way, apply the hard-won lessons that you have learned while in the halls of the Academy, clinging to the values of courage, integrity, and patriotism. That way, you will never lose your way," he said.
"Live up to the precepts that define your class identity — namely, honor, excellence, and ability to recover — and help lead our nation towards the progressive and prosperous future that we all aspire for," he added.
Also in attendance during the "MAndirigmang May Dangal SImbolo at Galing at PagbangON" or Warriors with Dignity, Symbol of Excellence and Recovery Class graduation were two parents from Class 1982, which was during the administration of the President's father, the late Ferdinand E. Marcos Sr.
Police general Miguel Laurel and Philippine Coast Guard's Commodore Eduardo Gongona are the parents of cadets Titus Laurel and Jose Eduardo Vivencio Lumbera Gongona, respectively.
"Our graduation and oath-taking were graced by President Ferdinand Edralin Marcos. Today, PMA Class 2023 graduation and oath-taking is graced by the son," Gongona said.
They said they sent their sons to the PMA for free education and to continue their legacy of serving the nation.